John and Karen Stodghill
MTW – Belize -- Central America
https://mtw.org/missionaries/details/john-and-karen-stodghill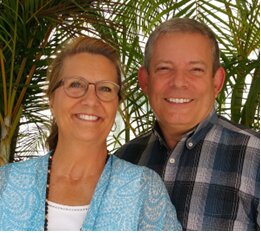 Welcome to our newest missionaries. John and Karen met at Covenant College on Lookout Mtn, GA. John holds a master's degree in Human Resources Management, and undergraduate degrees as a registered nurse and a paramedic. Karen's degree is in elementary education. The Stodghills have served MTW disaster relief since 2003. They became full time missionaries in 2015 as church planters in the Bahamas. In 2019, God called them to Belize, Central America. John serves as MTW team leader for the country and preaches in a church in western Belize. The focus of ministry is church revitalization as well as church planting. They both work countrywide with the Presbyterian Church in Belize leadership development, the Presbyterian schools, and the Presbyterian Medical Clinic. God has opened doors allowing community development through health care, emergency services, and assisting in schools. This summer, their ministry, in conjunction with MTW, is hosting 2 small, weeklong, short-term missions teams and one Vision Trip. You can sign up for their newsletters at MTW.org and also learn more from videos of past updates to their supporters on FaceBook.
John and Karen have been married for 36 years, and have 3 grown and married children: twin sons, John III and Joshua, and a daughter, Sarah. On May 1, 2022, they were blessed with the birth of their 10th grandchild—7 boys and 3 girls.
Challenges:
· There are 16 Presbyterian churches that have been established, with only 4 national pastors, one missionary pastor, and John and 9 other ruling elders in the whole denomination.
· Covid has interrupted school for 2 years. Currently in person learning ranges 2- 4 days per week depending on class sizes.
· Education of leaders as proficient reading and writing is low.
Goals for 2022:
· Continued training and ordination of more leaders.
· More members to become Sunday School leaders.
· A church plant in the capital city of Belmopan, where there are no reformed and covenantal churches.
Praises:
· For the health of our church members.
· We have had addition of new members, and new believers to join the church we serve at, as well as at other churches in the country.
· The development of Emergency Medical Response services with Cayo district as the test district to see if they want to continue throughout the country.
Prayer:
· For continued spiritual growth through discipleship for our church people.
· For our youngest granddaughter as she is undergoing tests for an enlarged kidney.
· How to effectively assist in education.