VBS
Our summer VBS is available to children who are 4yrs old (by June 1st) through 5th grade (completed).
Our 2023 VBS is scheduled TBD and will run 9:00 am - 12:00 pm each day.
See below for registration information.


The 2022 VBS theme was Space Probe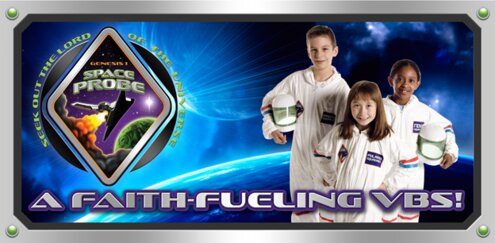 LIVES TRANSFORMED
For Christ's glory is what VBS Reach Out Adventures is all about!
Our VBS kids will come away from Space Probe knowing that God not only created them, but sees them and knows them at all times, and has reached out in love to save them. It's knowing God as our personal Creator and Savior that changes lives forever.
In this outer space-themed VBS, our young "Astronauts"—churched and unchurched—will meet the Lord of the Universe and engage the truths of His Word through:
Registration
Information about next summer's VBS registration will be posted in the spring 2023.